EXPERIENCE A PROFOUND SENSE OF BELONGING AT MARISTONE SENIOR LIVING IN MOUNT JULIET, TN
Maristone of Providence is your premier choice for senior living in Mount Juliet, Tennessee. 
Maristone specializes in assisted living and memory care that allows adults to be themselves and to experience a profound sense of belonging at any age.
We are committed to ensuring that every service and every amenity help create the enriched, active life you or your loved one deserves.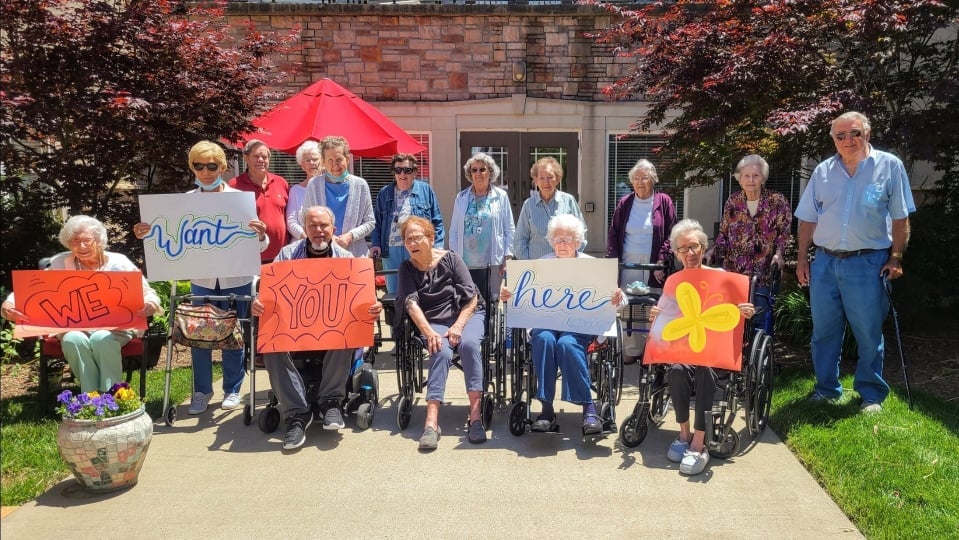 CONTACT US ABOUT LIFE AT MARISTONE. WE'RE HERE TO HELP.
Choosing the right senior living community can be confusing. There are many things to consider in making this important and emotional decision. 
Most families have never made this journey before, so we are here to help. Learn more about life at Maristone by downloading our brochure.
Each Maristone community offers the highest quality in living accommodations, culinary experiences, activity programs, and health and well-being services, all performed by knowledgeable and caring team members. We are proud to serve residents and their families from all over middle Tennessee and the greater Nashville area, including Mount Juliet, Lebanon, and Hermitage.
For those who prefer to live east of Nashville, Maristone of Providence in Mt. Juliet, Tennessee, offers the ideal choice in assisted living and memory care. Less than a mile from the popular Providence Marketplace, residents find excellent shopping, dining and entertainment attractions are less than a 2-minute ride away. In addition, fishing and boating are accessible options with nearby Percy Priest and Old Hickory Lake. Maristone of Providence is also convenient to Summit Medical Center. In less than 20 minutes, residents can reach everything Music City has to offer, because Maristone of Providence is conveniently located in western Wilson County, directly off I-40, just 18 miles east of Nashville.
Maristone is your premier choice for senior living in Mount Juliet, whether you need assisted living or memory care.
Maristone of Providence is an intimate community that allows for a much easier move-in transition and adjustment. Residents get to know their neighbors and make new friends. Elevators are close by, and living rooms on both floors provide great opportunities to interact and socialize. No apartment is "too far away," and fewer outside entrances helps tighten security. Best of all, with a smaller group of dedicated team members on staff, residents feel more connected and cared about from day-one.
Whether you are ready now or are just beginning to think about this, we invite you to stop by or call to schedule a tour at your convenience. We are here to serve you 24 hours a day, 7 days a week.
Want to see if our community is a match for you or someone you love?
We would like to get to know you and learn more about what you are looking for. Take our lifestyle quiz.
Level of Care charges not included
Pricing inclusive of Levels of Care
Pricing based on availability
We've had an excellent experience so far. Mom and Dad moved in during COVID and the staff has been great - attentive and caring. My folks are really happy there, which makes me happy...the leadership is great now as is the support staff.
[My husband] is given the care he needs and is doing much better. The nursing staff and other employees are friendly and caring. I'm always welcomed when I go to be with my husband. It's hard for both of us when I have to leave him, but I know he's in good hands.
I wanted to keep my mom with me at my home – even when she was diagnosed with dementia. But, it became way too hard and I became exhausted. And then I found Maristone of Providence. I know it was the right place when I was touring and the other residents started singing "You are My Sunshine." It is one of my mom's favorite and I could just envision her with these other lovely ladies singing that song. I moved her in the next week and now I can be a daughter again! Thank you, Maristone!
I was so concerned about her safety, but I was excited to find good, caring people at Maristone. She loves the staff and being with people her own age. We are very thankful.
I was so worried that my mom would feel abandoned and now I can't get her on the phone! The plan was for my mom to stay at Maristone only for two weeks, while I moved. She loved it so much that she wanted to stay – and now she's too busy for me! When I call her, she doesn't have time to talk because she's doing exercise or listening to music or it's time for Bingo! What a blessing!
Make plans to come visit the best senior living in Mount Juliet, Tennessee. During your tour, it would be our pleasure to have lunch with you.
© 2022 Vitality Living. All Rights Reserved.