Vitality Living West End Richmond
is a Caring Star of 2023!
Assisted Living in Richmond, VA
Vitality is your premier choice for senior living in Richmond. 
We are committed to ensuring that every service and amenity helps create the enriched, active life you or your loved one deserves.
Vitality Living West End Richmond specializes in assisted living and memory care, allowing adults to experience a lifestyle with vitality at any age.
CONTACT US ABOUT LIFE AT Vitality. WE'RE HERE TO HELP.
Choosing the right community can be confusing. There are many things to consider in making this important and emotional decision. 
Most families have never made the senior living journey before so we are here to help. Learn more about life at Vitality by downloading our brochure or scheduling a visit.
Looking for Funding Solutions?
Vitality Living West End Richmond has partnered with Senior Living Financial Specialist to help you create a financial plan to pay for senior living, with no additional cost to you.
Senior Living Financial Specialist is the only company that can provide $5,000 to $500,000, specifically for senior living and transition costs.
Request a free consultation!
LIFESTYLE OPTIONS & AMENITIES
Each day is about living life to the fullest and letting us take care of mundane daily chores. You may want to spend your day resuming an old hobby or learning a new one. Maybe you want to practice putting green or create something in the woodworking shop. Our full activities program includes dancing, music therapy, wine and cheese socials, exercise, jewelry making, Bible study, Walking Club, Crochet/Knit Club, tea parties, and more. We love taking exciting day excursions such as visiting the Virginia Museum of Fine Arts, Lewis Ginter Botanical Gardens, and the American Civil War Museum. You can be active as much — or as little — as you choose.
Whether you are ready now or are just beginning to think about senior living in Richmond, Virginia, we invite you to stop by or call to schedule a tour at your convenience. We are here to serve you 24 hours a day, 7 days a week.
24-Hour Security System
Pet Friendly

Transportation

Parking – Surface
Library

Beauty/Barber Shop

Courtyard and Garden
Gardening
Porch
Private Dining Room
Arts & Crafts Studio
Game Room
Walking Paths
Wi-Fi Access Throughout
Landscaped Grounds
Fireside Living Room
Screened Lanai
Postal Services
Piano
Learn more about Memory Care at Vitality Living West End Richmond
Vitality Living West End Richmond assisted living and memory care supports residents' needs, as well as their interests, with a calendar filled with a variety of activities and engagement. Families will find peace of mind by knowing that their family members are well taken care of and enjoying life.
You'll find plenty of comfortable common space to spend time with friends and family, whether it's in the spacious, home-like fireside family room, well-stocked library, screened lanai, café / bistro, or outdoor areas. Large windows give tremendous natural light throughout the community, giving in an open, airy feel.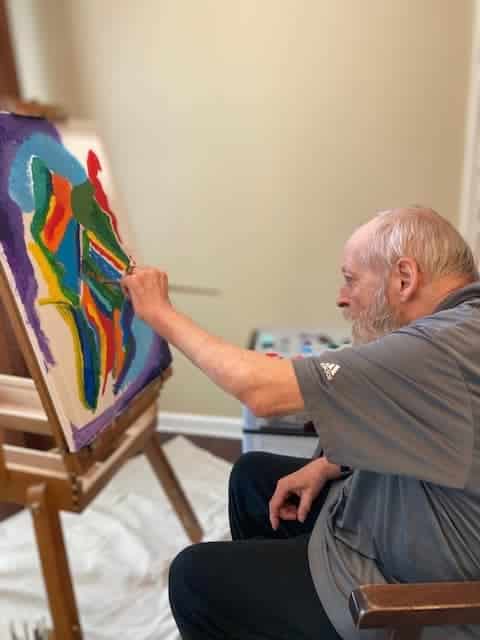 We would like to get to know you and learn more about what you are looking for.
Take our lifestyle quiz.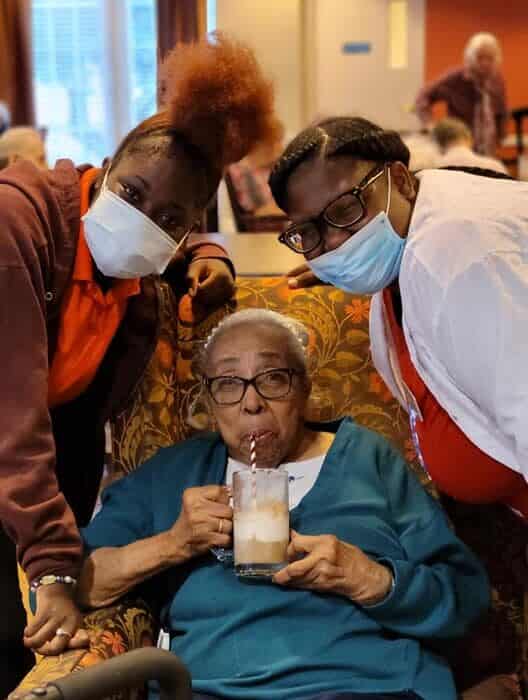 Do you wonder if home care, independent living, assisted living, memory care or skilled nursing is the best fit based on your unique situation?
View our floor plans to learn more about our memory care facility.
Plan square footage, dimensions and scaling are approximate. Furniture icons do not represent exact measurements. Feel free to stop by and we'll be happy to help you see which unit best fits your needs.
Move in and we'll furnish your apartment...for free!
Did you know Vitality offers furnished apartments at no additional cost? The furniture is yours to keep!
Pricing based on availability. Level of Care charges not included.
Frequently Asked Questions (FAQ)
What makes the Assisted Living community at West End Richmond unique?
At West End Richmond, you will find a home-like atmosphere, staff longevity with our staff, and lots of fun activities/events!
What resources are available for families that are searching for financial assistance?
We work with the Senior Living Financial Specialist programs where they help families understand their options and maximize financial resources, including VA Aid & Attendance benefits, Bridge Loans, Real Estate, Move Management, Long Term Care Insurance, and Life Insurance.  These consultations are at no charge to you.
What are the main differences between the Assisted Living residency and Memory Care apartments?
Our Memory Care community has specially trained staff members for dementia care best practices, tailored activities specific to each resident's unique cognitive needs, and housing options that include elements that help increase safety and eliminate challenges that come with dementia. Assisted Living provides senior residents with more liberties, such as the ability to leave the community to visit places outside of Vitality Living West End Richmond.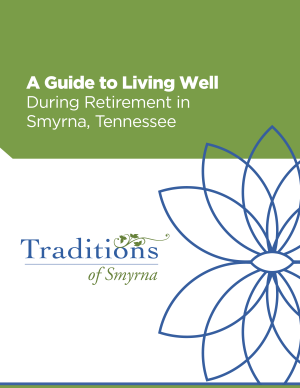 GUIDE TO LIVING WELL DURING RETIREMENT IN SMYRNA, TENNESSEE
This guide to living your best life during retirement in Smyrna, Tennessee explores enrichment opportunities and outings ranging from popular restaurants to local history. Best of all, it's free! Download it today.
Make plans to visit the best memory care facility in Richmond, VA. During your visit, it would be our pleasure to have lunch with you.
© 2023 Vitality Living. All Rights Reserved.