Assisted Living in Elizabethtown, KY
Vitality is your premier choice for senior living in Kentucky.
We are committed to ensuring that every service and amenity helps create the enriched, active life you or your loved one deserves.
Vitality Living Elizabethtown specializes in assisted living and memory care that allow adults to experience a lifestyle with vitality at any age.
CONTACT US ABOUT LIFE AT Vitality. WE'RE HERE TO HELP.
Choosing the right community can be confusing. There are many things to consider in making this important and emotional decision. 
Most families have never made the senior living journey before so we are here to help. Learn more about life at Vitality by downloading our brochure or scheduling a visit.
Elizabethtown's Leading Senior Living Community
As the premier assisted living and memory care community in the Elizabethtown area, we are conveniently located beside Kentucky's Freeman Lake. Elizabethtown is your front-row seat to waterfront attractions, including the Fourth of July fireworks celebration, Elizabethtown's Christmas in the Park, and the Heartland Festival. Vitality Living Elizabethtown is close to casual and fine dining establishments, shopping, and cultural centers. And there's not a chore in sight. Take time to do the things you want to do and get the care you need.  
Whether you are ready now or are just beginning to think about senior living in Elizabethtown, Kentucky, we invite you to stop by or call to schedule a tour at your convenience. We are here to serve you 24 hours a day, 7 days a week. 
Take a self-guided assessment to find out.
Is it time to get help?
Do you wonder if home care, independent living, assisted living, memory care or skilled nursing is the best fit based on your unique situation?
Start your 5-min assessment
24-hour staff
Alzheimer's and dementia support group
Community laundry service
Concierge service
Emergency alert pendant or wristband
Escort and transfer assistance are available
Full-service salon and spa 
Library
Newspaper delivery
On-site parking
Outdoor dining space
Patio
Pet-friendly environment
Private dining room available
Resident garden space
Scheduled transportation available 
Walking paths
Want to see if our community is a match for you or someone you love?
We would like to get to know you and learn more about what you are looking for. Take our lifestyle quiz.
Vitality Living is your premier choice for senior living in Elizabethtown, whether you need assisted living or memory care.
Vitality Living Elizabethtown assisted living and memory care supports residents' needs, as well as their interests, with a calendar filled with a variety of activities and engagement. Families will find peace of mind by knowing that their family members are well taken care of and enjoying life.
You'll find plenty of comfortable common space to spend time with friends and family, whether it's in the spacious, home-like cozy family room, well-stocked library, furnished balconies in the common areas, café/bistro, or outdoor areas. Large windows give tremendous natural light throughout the community, giving in an open, airy feel.
Plan square footage, flooring, dimensions, and scaling are approximate. Furniture icons do not represent exact measurements. Feel free to stop by and view our assisted living community.
SENIOR APARTMENTS PRICING
Pricing based on availability. Level of Care charges not included in Assisted Living or Memory Care. 

Frequently Asked Questions (FAQ)
What are the primary differences between memory care apartments and assisted Living?
At Vitality Living Elizabethtown there is no difference in the size or layout of the apartment in Memory Care in comparison to Assisted Living. The primary difference is the size of the memory care community. The memory care floor plan is smaller than the assisted living. It has a quaint feel and all areas are closer in proximity while allowing the resident to move freely throughout the secured environment prompting a feeling of independence. Our Memory care Community is setup with 1 bedroom and studio apartments. The notable difference in our memory care is the Engagement programs that are offered, which are planned to fit the level of each of our Memory Care Residents, as well as the staff to Resident Ratio, and the Dining experience, which is served using Fiesta china. The fiesta ware is one of the most well-known Americana patterns in the US. This colorful dinnerware provides a color contrast on the plate enabling the resident to better distinguish their food on the plate.
Is memory care staffed twenty-four hours a day?
Yes, our memory care community is staffed 24 hours a day, with care staff as well as its own Memory Care Director.
What are the meal options available for Vitality Living Elizabethtown residents?
Our dining experience offers choices, enabling the resident to make decisions for themselves, thus promoting independence. The dining experience in the main dining room in our Assisted Living community offers a restaurant-style experience with a different entrée for each meal. We also offer our always-available menu, Which includes 3 different soups, along with chef salads, deli sandwiches, cheeseburgers, hamburgers, and a large selection of side dishes as well as a variety of freshly made desserts.
Is laundry and housekeeping included in the cost?
Yes, each resident will receive 1 day per week of laundry service which includes personal laundry, sheets and pillowcases, full room housekeeping, and everyday light touches such as trash pickup, and bed making if needed.
Will there be additional fees for doctor appointments?
Although there is no additional charge for transportation within the local area. We would like a family member to meet them at their appointment or we may have to charge an ancillary fee for escorting.
How will Vitality Living Elizabethtown keep my family member engaged?
"I worry about them becoming socially isolated."
Once a senior resident moves in we take time to get to know them. We will ask you to fill out a resident survey, sharing the resident's interests, hobbies, career, and habits of a lifetime. We develop our programming calendar based on our residents' interests; it is ever-evolving to reflect our current residents. By getting to know our residents we can develop techniques that are customized specifically to our residents. This information is also shared with our staff, while providing Activities of Daily Living (ADL) care they can discuss topics that will engage the resident in conversation building a stronger rapport and feeling of trust.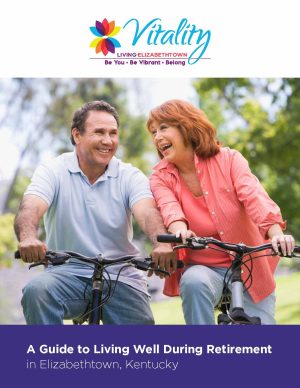 GUIDE TO LIVING WELL DURING RETIREMENT IN Elizabethtown, Kentucky
This guide to living your best life during retirement in Elizabethtown, Kentucky explores enrichment opportunities and outings ranging from popular restaurants to local history. Best of all, it's free! Download it today.
Make plans to visit the best senior living community in Elizabethtown, KY. During your visit, it would be our pleasure to have lunch with you.
© 2023 Vitality Living. All Rights Reserved.