Active Adult Community in Madison, GA
Madison is now home to the newest active adult campus, Vitality Living Madison. 
Imagine living your most vibrant life without the hassle and stress, so you can focus on what you want to do. Vitality Living Madison is an active adult community that includes a clubhouse, a heated outdoor pool, a full gym, fitness classes, and more.
CONTACT US to learn more about LIFE AT Vitality Living Madison.
Imagine yourself living vibrantly at Vitality.
Vitality Living is bringing the charming town of Madison an active retirement living campus unlike any other in the area.
Learn more by downloading our brochure or completing the form to contact us.
ABOUT VITALITY LIVING MADISON
Experience life your way at Vitality Living Madison. Supporting a vibrant, active lifestyle with two living options, villas, and villages.
Madison, recently featured as one of Architectural Digest's "Most Beautiful Small Towns in America," is now home to the newest premier retirement living campus, Vitality Living Madison. 
Vitality Living Madison's location is unmatched. The campus, at 1600 Bethany Rd, Madison, GA, is conveniently located adjacent to the 441 Bypass and near I-20. The community is less than two miles from Morgan Medical Center, Morgan Fitness Center, and downtown Madison and only a 45-minute drive to the Atlanta airport.
Whether you are ready now or are just beginning to think about this, we invite you to stop by or call to schedule an appointment at your convenience. Our office hours are 8 A.M. to 5 P.M. Monday through Friday, and by appointment on Saturdays, but we work with your schedule. We are here to serve you 24 hours a day, 7 days a week.
Vitality Living Madison will open in phases!
Vitality Living Madison will open in phases. Phase 1 focuses on an active retirement lifestyle and includes a state-of-the-art wellness center, a heated outdoor pool, hiking trails, a pickleball court, a yoga and exercise room, and games. Your backyard is 73 landscaped acres and is uniquely designed for your well-being and enjoyment.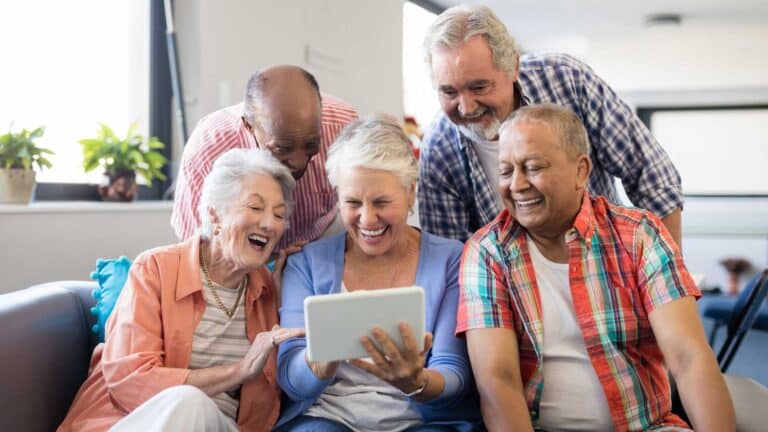 Want to see if our community is a match for you?
We would like to get to know you and learn more about what you are looking for. Take our lifestyle quiz.
Vitality Living Madison offers two styles for retirement living: one and two-bedroom cottages.
One bedroom one bath. Four apartments per building. Shared main entrance, front porch, lounge, and back patio.
Two bedroom two bath with attached garage and private patio (screened-in option available). Two villas per building. Shared front porch.
More services may be purchased
View our photo gallery to learn more about Madison's premier senior living community for active adults 55 and over.
Frequently Asked Questions (FAQ)
Does Vitality Living Madison offer furnished senior living apartments?
No, we do not offer furnished senior apartments.
Is in-home care permitted for seniors who need assistance?
Yes, and we have referrals for these.
What activities are available for seniors?
Vitality Living Madison offers a plethora of activities for our senior residents. Book club, art club, massages, haircuts, manicures/pedicures, garden club, chair yoga, Zumba, step aerobics, personal trainer, Friday night social, men's breakfast, and women's breakfast.
Do you offer short term leasing options?
No, unfortunately not at this time.
We offer dinner options two days a week from a local caterer. This gives you or your family member the ability to order from a monthly menu with a variety of home-cooked meals.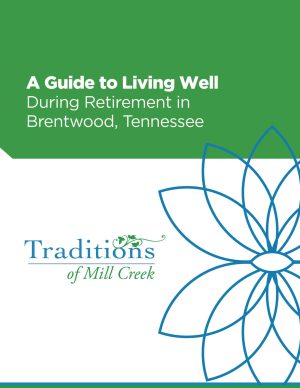 GUIDE TO LIVING WELL DURING RETIREMENT IN BRENTWOOD, TENNESSEE
This free guide to living your best life during retirement in Brentwood, Tennessee explores enrichment opportunities and outings ranging from popular restaurants to local yoga studios. Download it today.
Make plans to come for a visit to our active adult community. We're available for visits 7 days a week.
© 2023 Vitality Living. All Rights Reserved.