Vitality Living Lake Forest
is a Caring Super Star of 2023!
Assisted Living in Sanford, FL
Vitality is your premier choice for senior living in Sanford, Florida. 
We are committed to ensuring that every service and amenity helps create the enriched, active life you or your loved one deserves.
Vitality Living Lake Forest specializes in assisted living and memory care that allow adults to experience a lifestyle with vitality at any age.
CONTACT US ABOUT LIFE AT Vitality. WE'RE HERE TO HELP.
Choosing the right assisted living facility can be confusing. There are many things to consider in making this important and emotional decision. 
Most families have never made the senior living journey before so we are here to help. Learn more about life at Vitality by downloading our brochure or scheduling a visit.
LIFESTYLE OPTIONS & AMENITIES
As the premier assisted living and memory care community, Vitality Living Lake Forest is your choice for senior living in Sanford, Florida. Set on a beautiful eight-acre campus, Vitality Living Lake Forest is a vibrant senior living community located just minutes from downtown Sanford, the Seminole Mall, and nearby Orlando and Mount Dora. Our residents enjoy comfortable amenities, chef-prepared meals, and a variety of social events and outings.  
Here at Vitality Living Lake Forest, each day is an opportunity to experience greater well-being. At Vitality, the choice is always yours. 
Whether you are ready now or are just beginning to think about senior living, we invite you to stop by or call to schedule a tour at your convenience. We are here to serve you 24 hours a day, 7 days a week. 
Take a self-guided assessment to find out.
Is it time to get help?
Do you wonder if home care, independent living, assisted living, memory care or skilled nursing is the best fit based on your unique situation?
Start your 5-min assessment
24-hour staff
Alzheimer's and dementia support group
Emergency alert pendant or wristband
Escort and transfer assistance are available
Full-service salon and spa
Library
Movie theater
Newspaper delivery
Nurse on-site 24/7
On-site parking
Outdoor dining space
Patio
Pet-friendly
Private dining room available
Resident garden space
Scheduled transportation available
Town car service
Vegetarian meals
Volunteer programs
Walking paths
Wellness center
Wi-Fi in common areas
Worship space
Learn more about assisted living at Vitality Living Lake Forest
Vitality Living Lake Forest assisted living and memory care supports residents' needs, as well as their interests, with a calendar filled with a variety of activities and engagement. Families will find peace of mind by knowing that their family members are well taken care of and enjoying life.
You'll find plenty of comfortable common space to spend time with friends and family, whether it's in the spacious, home-like cozy family room, well-stocked library, furnished balconies in the common areas, café/bistro, or outdoor areas. Large windows give tremendous natural light throughout the community, giving in an open, airy feel.
Want to see if our community is a match for you or someone you love?
We would like to get to know you and learn more about what you are looking for. Take our lifestyle quiz.
View our floor plans to learn more about our memory care facility.
Pricing based on availability and apartment style. Assisted Living Level of Care charges not included.
Frequently Asked Questions (FAQ)
What programs are in place to assist with Memory Care?
Vitality Living Lake Forest has partnered with Powerback Rehab for residents that would benefit from physical therapy, speech therapy, or occupational therapy. We also utilize the Encompass Program to care for our Memory Care residents. We also have engaging activities specifically tailored to residents with memory issues, with our primary goal being to allow residents to stay as independent as possible, for as long as possible.
Does your staff work 24 hours a day in the Assisted Living community?
Yes, we have a concierge and care staff 24 hours a day.
What is the staff to resident ratio at Lake Forest?
We staff based on the needs of our residents. In addition to our caregivers, we also have two Memory Care Directors, Medication Technicians, Engagement Coordinators, and a Nurse on-site 24 hours a day. Our staff-to-resident ratio varies depending on the needs of our residents. We typically staff our Memory Care Community with one staff to eight to twelve residents.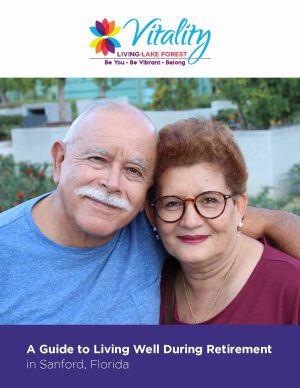 GUIDE TO LIVING WELL DURING RETIREMENT IN Sanford, Florida
This guide to living your best life during retirement in Sanford, Florida explores enrichment opportunities and outings ranging from popular restaurants to local history. Best of all, it's free! Download it today.
Make plans to visit the best dementia care in Sanford, FL. During your visit, it would be our pleasure to have lunch with you.
Visitation Rights:  Effective May 6, 2002, Governor Ron DeSantis signed legislation known as the "No Patient Left Alone Act" which guarantees Florida families the fundamental right to visit their loved ones receiving care in hospitals, hospices, nursing homes, assisted living facilities, and intermediate care facilities for the developmentally disabled. Please click here for the Community's Visitation and Essential Caregiver policy. Please click here for the link to AHCA's website regarding the new Act.
© 2023 Vitality Living. All Rights Reserved.