Landmark Lifestyles at Ridgeland Assisted Living and Memory care
Your premier choice for senior living in Ridgeland, Mississippi.  
Landmark Lifestyles at Ridgeland specializes in assisted living and memory care, allowing adults to experience a lifestyle with vitality at any age. 
CONTACT US to learn more about Retirement Living in Ridgeland.
Choosing the right assisted living community can be confusing. There are many things to consider in making this important and emotional decision. 
Most families have never made the senior living journey before so we are here to help. Learn more about life at Ridgeland by downloading our brochure or scheduling a visit.
Learn more about Memory Care at Landmark Lifestyles Ridgeland
Recognized as a Tree City USA, a Bicycle Friendly Community, top 100 places to live named by MONEY® Magazine in 2007, Ridgeland, MS is now home to the newest premier assisted living and memory care facility. Landmark Lifestyles is redefining senior living in Ridgeland, MS.
The location is simply unmatched. Landmark will be located on Dyess Road, just off County Line Road, which provides great connectivity to all the services and amenities the greater Jackson Metro area has to offer. Conveniently located, Landmark is minutes from Award-winning medical facilities, Pelahatchie Bay, the historic Natchez Trace Parkway, and a variety of retail and dining locations.
The Leasing Office is located in the Renaissance at Colony Park in the Regus office space. The address is 1000 Highland Colony Pkwy Ste 5203, Ridgeland, MS 39157.
Whether you are ready now or are just beginning to think about this, we invite you to call to schedule an appointment at your convenience. We are here to serve you 24 hours a day, 7 days a week.
Take a self-guided assessment to find out.
Is it time to get help?
Do you wonder if home care, independent living, assisted living, memory care or skilled nursing is the best fit based on your unique situation?
Start your 5-min assessment
Ridgeland's Premier Senior Living Community
Landmark Lifestyles at Ridgeland's assisted living and memory care supports residents' needs, as well as their interests, with a calendar filled with a variety of activities and engagement. Families will find peace of mind by knowing that their family members are well taken care of and enjoying life.
You'll find plenty of comfortable common space to spend time with friends and family, whether it's in the spacious, home-like cozy family room, well-stocked library, furnished balconies in the common areas, café/bistro or the outdoor areas. Large windows give tremendous natural light throughout the community, giving in an open, airy feel.
Follow us on Facebook!
Keep up with the latest in development at Landmark Lifestyles Senior Living in Ridgeland.
See our floor plans to learn more about our memory care units.
Assisted Living Studio 377 Sq. Ft.
Assisted Living One Bedroom A 654 Sq. Ft.
Assisted Living One Bedroom B 703 Sq. Ft.
Assisted Living One Bedroom C 756 Sq. Ft.
Assisted living Two Bedroom 1,135 Sq. Ft.
Memory Care Studio 377 Sq. Ft.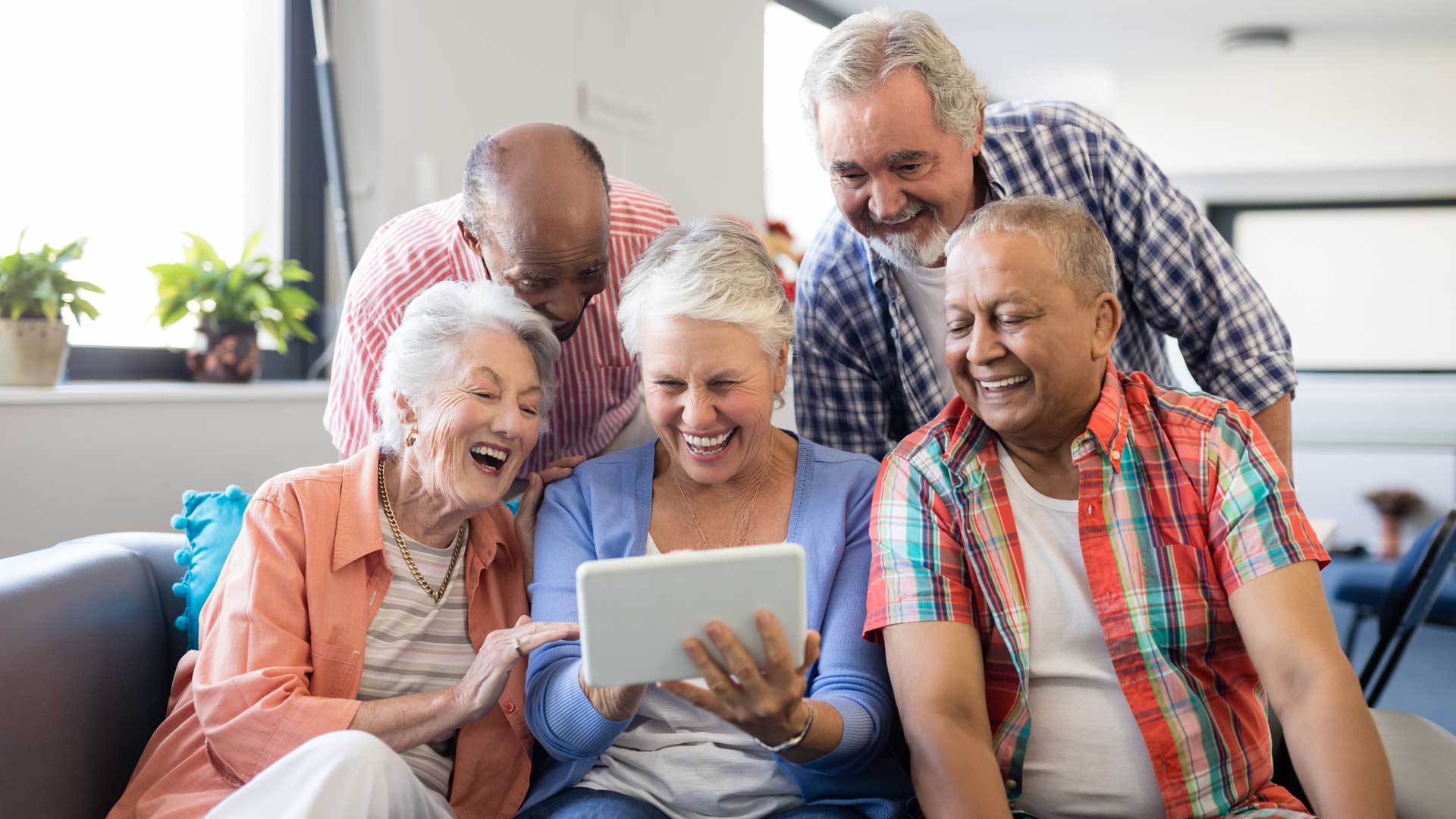 Want to see if our community is a match for you?​
Personalizing your experience is important. Help us get to know you by taking our quiz. It's fun, easy and only takes a minute!

Plan square footage, flooring, dimensions and scaling are approximate. Furniture icons do not represent exact measurements. Feel free to stop by and we'll be happy to help you see which unit best fits your needs.
View our photo gallery to learn more about our senior living options.
Frequently Asked Questions (FAQ)
What are unique qualities that make the Assisted Living community at Landmark Lifestyles different from other senior living communities?
Landmark Lifestyles offers multiple floor plans with large square footage apartments. We have a lot of common areas for our seniors and unique outdoor activity areas including a pet park. Our community features a third floor with a balcony and enclosed courtyards.
What options are available for married couples if one spouse has dementia?
If both residents would like to reside in the community, we would customize a plan that would accommodate both of their needs. This could include living together in one apartment or occupying two separate apartments for sleeping but a schedule that would join the two together during the daytime.
What are the main differences between the Assisted Living residency and Memory Care?
Our Memory Care community will have specially trained staff members for dementia care best practices, tailored activities specific to each resident's unique cognitive needs, and housing options that include elements that will help increase safety and eliminate challenges that come with dementia.
Will Memory Care be tailored to the level of patient's needs?
Yes, we will address the specialized needs of each individual with a person-centered care plan.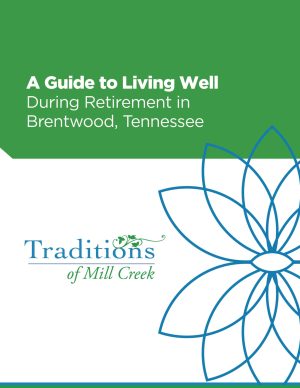 GUIDE TO LIVING WELL DURING RETIREMENT IN BRENTWOOD, TENNESSEE
This free guide to living your best life during retirement in Brentwood, Tennessee explores enrichment opportunities and outings ranging from popular restaurants to local yoga studios. Download it today.
Make plans to come meet with our Sales Director at your convenience. We're available for visits 7 days a week.
© 2023 Vitality Living. All Rights Reserved.