St. Simons Assisted Living Community
Vitality Living Frederica
Vitality is your premier choice for senior living apartments in St. Simons Island. 
We are committed to ensuring that every service and amenity help create the enriched, active life you or your loved one deserves.
Vitality Living Frederica specializes in assisted living and memory care that allow adults to experience a lifestyle with vitality at any age.
Contact Us About Life At Vitality
Choosing the right assisted living community can be confusing. There are many things to consider in making this important and emotional decision. 
Most families have never made the senior living journey before so we are here to help. Learn more about life at Vitality by downloading our brochure or scheduling a visit.
Lifestyle Options & Amenities
Each day is about living life to the fullest and letting us take care of mundane daily chores. You may want to spend your day resuming an old hobby or learning a new one. Maybe you want to practice putting green or create something in the woodworking shop. Our full activities program includes dancing, music therapy, wine and cheese socials, exercise, jewelry making, Bible study, Walking Club, Crochet/Knit Club, tea parties, and more. We love taking exciting day excursions such as visiting Sea Palms Golf Club the St. Simons Island Lighthouse Museum, the beautiful marsh vistas, creeks, and island beaches. You can be active as much — or as little — as you choose.
Learn more about Vitality of Frederica's Memory Care Apartments on St. Simons Island
Whether you are ready now or are just beginning to think about senior living in St. Simons Island, Georgia, we invite you to stop by or call to schedule a tour at your convenience. We are here to serve you 24 hours a day, 7 days a week.
Take a self-guided assessment to find out.
Is it time to get help?
Do you wonder if home care, independent living, assisted living, memory care or skilled nursing is the best fit based on your unique situation?
Start your 5-min assessment
24 Hour Security System
Pet Friendly

Transportation

Parking – Surface
Library

Beauty/Barber Shop

Courtyard and Garden
Gardening
Porch and Balcony
Private Dining Room
Arts & Crafts Studio
Game Room
Walking Paths
Wi Fi Access Throughout
Landscaped Grounds
Fitness Room
Postal Services
Piano
Vitality Living is your premier choice for senior living in St. Simons Island, whether you need assisted living or memory care.
Vitality Living Frederica assisted living and memory care apartments support residents' needs, as well as their interests, with a calendar filled with a variety of activities and engagement. Families will find peace of mind by knowing that their family members are well taken care of and enjoying life. Our senior care apartments are centrally located on St. Simons Island and all of its attractions. 
You'll find plenty of comfortable common space to spend time with friends and family, whether it's in the spacious, home-like cozy family room, well-stocked library, furnished balconies in the common areas, café/bistro, or outdoor areas. Large windows give tremendous natural light throughout the community, giving in an open, airy feel.
Want to see if our retirement community is a match for you or someone you love?
We would like to get to know you and learn more about what you are looking for. Take our lifestyle quiz.
Ocean Suite, Approx. 603-638 sf
Retreat Suite, 542-600 SF
Island Suite, Approx. 398-471 sq. ft.
Palm Suite, Approx. 303-371 sf
Resort Suite, Approx. 398-471 SF
Plan square footage, flooring, dimensions and scaling are approximate. Furniture icons do not represent exact measurements. Feel free to stop by and we'll be happy to help you see which unit best fits your needs.
Pricing based on availability. Level of Care charges not included in Assisted Living.
Frequently Asked Questions (FAQ)
What requirements are in place for assisted living residency?
Potential residents are required to have a physical evaluation performed by their primary care physician (PCP) / Nurse practitioner (NP), so our community can understand and follow the daily necessary assistance based on each resident's needs. The future resident must pass a background check and also agree to our regulations of assisted living provided in our residency agreement. The Director of Wellness also does an assessment with the prospective resident where we assess their level of mobility, cognitive impairment/issues, behavioral issues, and any open areas on their skin, and just get an overall picture of them to see if they will be a good fit for our community. We go over any medical issues or health concerns they have, medication profiles, and answer any questions they may have.
Is in home care available for residents with memory issues?
Yes, families have the option to have additional care services in the community. It is provided through a third-party provider. If the family chooses to utilize additional caring services other than what we provide for daily assistance. The family needs to share a form from Vitality with the company providing the service or private care person, the form needs to be signed agreeing and understanding our regulations when providing direct caring services in the community.
How often does your staff undergo training and certification?
Our team follows a mandatory 30-day, 60-day, and annual training which covers several areas, such as resident rights, resident care, dementia training, hygiene, community policy, anti-discrimination, HIPPA, Empowering residents, and several others. Each care team member goes through an average of 36 courses.
What services do you provide?
Our community assists with Activities of Daily Living (ADL) from as simple as setting reminders to assisting with showers, incontinence care,  laundry, housekeeping, meals, activities, outings, and local doctor appointment transportation. As for additional services in-house from partnered care sources, our community includes Physical Therapy, Podiatry Services, Nurse Practitioner visits, and a hair salon.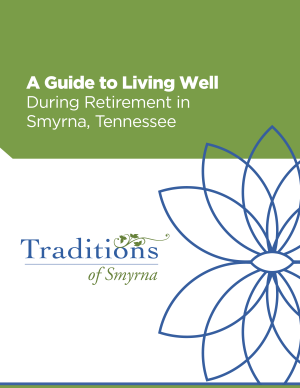 GUIDE TO LIVING WELL DURING RETIREMENT IN SMYRNA, TENNESSEE
This guide to living your best life during retirement in Smyrna, Tennessee explores enrichment opportunities and outings ranging from popular restaurants to local history. Best of all, it's free! Download it today.
Make plans to visit the best senior living in St. Simons Island. During your visit, it would be our pleasure to have lunch with you.
© 2023 Vitality Living. All Rights Reserved.